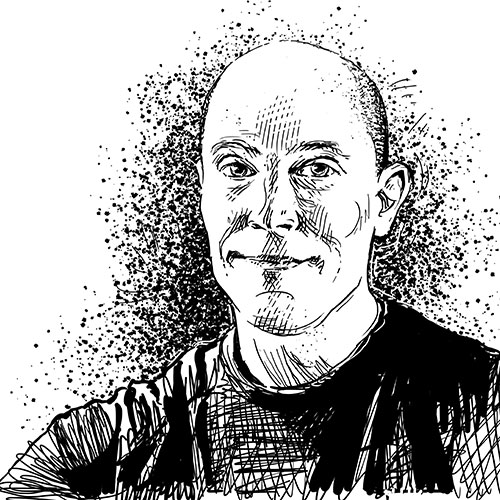 If I can be of assistance in your next project, please give me a call 717-993-6598, or send me an email. jim@jimstarr.com
I've always loved drawing. In elementary school, I remember being sent out in the hall with my desk having been caught drawing instead of paying attention. So it was natural for me to pursue a career as an illustrator. I am grateful that I have been able to make a living doing what I love.
I graduated from Carnegie-Mellon University, with a BFA in illustration. Just two years later, I found my dream job as a staff illustrator at Eucalyptus Tree Studios in Baltimore, Md. Working alongside accomplished illustrators at Eucalyptus Tree, I learned the value of versatility.
Over the last 20 years as a freelance illustrator, my flexibility and versatility have kept my illustrations current in today's ever changing market. My goal in every assignment is to work closely with the designer/art director to come up with a conceptually strong and well designed illustration. I have worked for a wide range of client needs including logos, icons, package design, editorial, corporate, portraits, event posters, and web graphics. My styles and techniques include graphic, scratch board, airbrush, woodcut, pastel, paintings, watercolor, pencil, and pen and ink. My work has been accepted into Print magazine, the Society of Illustrators Annual, and the Washington DC. Illustrators Club Exhibit.
AARP
American Chemical Society
American Hospital Association
American Postal Workers Union
Atlantic Council
Baltimore Sun
Baltimore Orioles
Boeing
Carnegie Museums of Pittsburgh
Cato Institute
Chevron
Citibank
Discovery Channel
Eisai Pharmaceutical
Equity Risk Partners
Federal Highways Administration
General Electric
General Dynamics
Humane Society of the United States
Johns Hopkins University
Kraft Foods
Mathematica
McGraw-Hill
National Association of Letter Carriers Magazine
National Cherry Blossom Festival
National Wildlife Federation
New York Times
Northwestern Publishing House
Penguin Books
Pennsylvania Lottery
Pepperidge Farm
Pfizer
San Jose Mercury News
Scholastic Publishing
T. Rowe Price
T-Mobile
Target
TGI Fridays
TD Bank
The Whitehouse of the United States of America
Washington Post
Under Armour